Dennis Ferbey - Owner/Producer/Engineer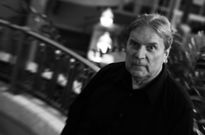 Dennis has more than 30 years of experience as an Engineer, Producer, Songwriter and performing musician. With dozens of album credits to his name, his skill can be brought to bear in all aspects of the recording process.
Dennis has seen the industry grow from 3-Track analogue recording all the way to today's digital workstation based projects. This vast diversity of knowledge helps to lend not only a seasoned ear to the project, but a wealth tips and tricks learned along the way.
An excerpt from an interview with Dennis about his favorite musical moments: "The most impressive experience was spending a week recording in Memphis. I was the singer and bass player in the band "James and the Bondsmen" and we recorded 6 tracks that were released on three singles on Capital Records in Canada. A couple of years later our group "The Mighty Preachers" recorded in Clovis New Mexico where Buddy Holly recorded most of his records. Our experience with Norman Petty, Holly's producer, was incredible."
Dennis' great band, Katzenjammers, can be found HERE
Craig Fraser - Producer/Engineer
Craig's consummate musical talents and innate ability to craft unique and memorable hooks has made him well suited to the position of Producer/Engineer at Oakstone.
Since the early days of his musical composing, he has always had a knack for hearing parts that belong in a given production before they appear in the final product. This skill is invaluable when final details are being added to a project and time is of the essence. Craig is a lifelong lover of computing and technology which lends itself perfectly to the modern recording studio environment.
Over the 10 years he spent as the lead singer, guitarist and principal songwriter in a pop/rock band, he was also the band's "tech", performing everything from cable repairs to demo recordings and full length records.
Bringing the essential real-world industry experience to the table, Craig has mastered not only the technical side of engineering and producing, but also is able to use his instinct and naturally sharp ear to produce great material in any creative situation.
DAW: Digital Performer 9, Pro-Tools 7.4 LE
Computer: Mac G5, Intel 12 Core
AD/DA: MOTU HD 192 (2), MOTU 2048 (2), Digi 002
UAD-2 Quad
Antares Evo
Console: Soundcraft Ghost
Monitors: Mackie HD824, Auratone, Yamaha NS-10
Organ: Hammond B3 w/Leslie, Synth - Korg Triton LE
Amps: Marshall JCM200 DSL50/1960 Slant Cab, Peavey Studio Pro
Guitars: Gibson Les Paul Standard, Fender Stratocaster (American), Martin DC1-E
Mics:
AKG C414 (2)
AKG D112
Audio Technica 4033 (2)
Audio Technica 825 (Stereo)
Audix D6
EV 365
Neumann U87
Rode NT2000
sE Gemini Tube
Sennheiser 421 (3)
Sennheiser 441
Shure SM7 (2)
Shure SM81
Shure SM57 (3)
Shure SM58 (2)
Misc:
Gretsch Drum Kit
1965 Fender Pre Bass
Fender American Jazz 5 Bass